Home make-over of Douar Tajanate in Morocco
On a dark evening during the winter Hendrik & I drive to Brussels to watch the documentary 'le thé ou l'electricité', produced by the Belgian director Jérôme Le Maire. This documentary is about the construction and installation of electricity to a very isolated village in the High Atlas region of Morocco. We fully enjoy the documentary and afterwards get the chance to talk to the very friendly director of the movie, Jérôme. During the conversation we quickly realize that the documentary had been filmed in the same village where we once passed through during a hike with the family in 2009 through the gorges of M'Goun, (a trip we did with travel company Anders reizen). Noticing plenty of similarities between us it became a very enjoyable chat.
Filming of the documentary took three years and Jérôme explained that was why he built a house in Skoura to live in for those years with his family. I listen very carefully as I had been looking for a beautiful house in Morocco to do a photo shoot for our web shop. After Jérôme emailed us some pictures of his house, we quickly decide: this is the one! This house has it all: nice rooms, lots of space, a quiet area and last but not least: we can have it all for ourselves. The ideal location. And if our belongings will get there easily… that is a problem for later. I am just too excited to think about practicalities at this moment!
It turned out later on that it was no joke to get a van full of our stuff to the address. However in the end after hundreds of phone calls and plenty of sleepless nights, we succeeded in our mission.
Early March and the time has come: after a week of shopping in the souks, we travel in our rented car over the Atlas on our way to Skoura. Skoura is located about 20 kilometers away from the High Atlas, in the middle of a stone desert. A green smudge in endless ocher colored plains. With the help of a little map given by Jérôme, we find the magical home, beautifully hidden in the shade of numerous palm and olive trees.
Behind this massive authentic Moroccan door lies a hidden paradise, called Douar Tajanate.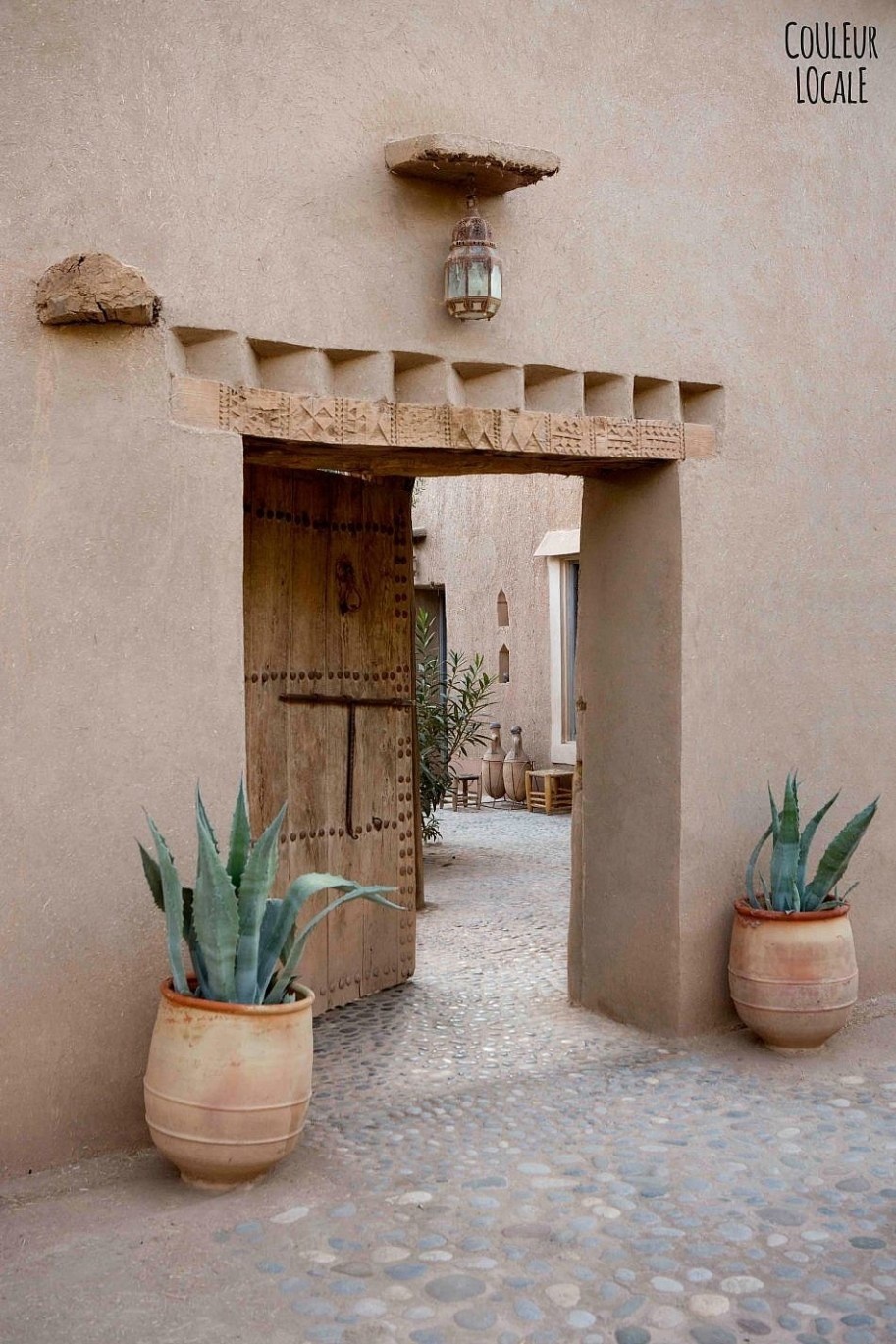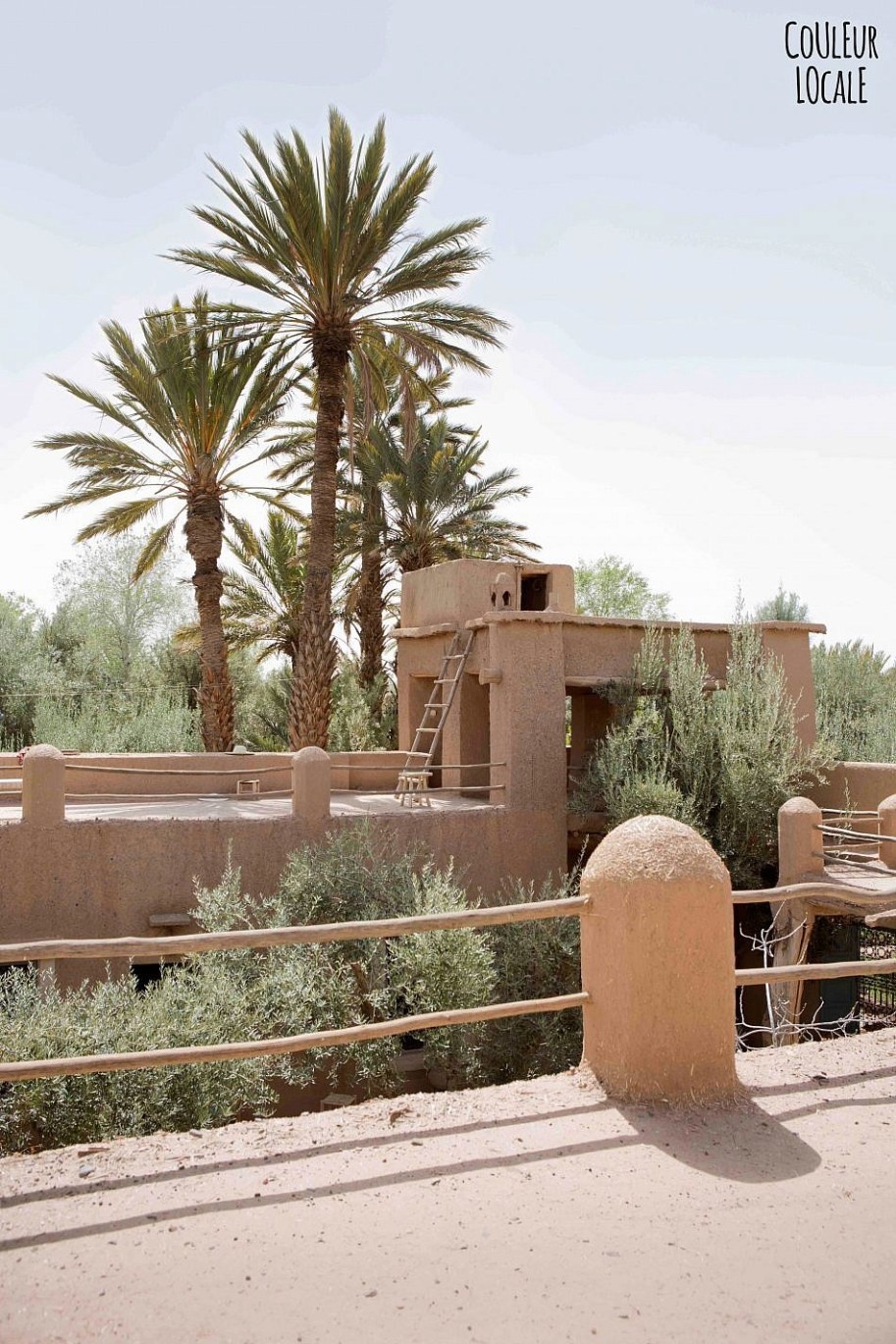 The house is fully integrated into the palm grove and completely built according to ancient traditions. You would think it had been there for centuries, just as the kasbahs where the region is known for. The distinctive courtyard is an actual garden and provides cover and privacy. The house is made of clay and straw and coated with tadelakt on the inside. Tadelakt is a traditional plastering based on lime, water and color pigments. In Morocco it's been used to decorate baths and fountains for centuries. An environmentally friendly product full of subtle colors which nowadays people use as a stylish wall covering. The technique owes its success to the natural water resistance and soft texture.
Douar Tajanate is full of wonderful contrasts. Downstairs you can sit among the palm trees, but when you climb via a wooden ladder up to the rooftop you set your eyes on the snowy peaks of the mountains in the distance. Pondering the immense starlight sky from up here at night truly never becomes boring. In addition everything is built ecologically and in a sustainable manner and the house even has its own kitchen vegetable garden. The perfect place to unwind through a life without internet in the middle of nature.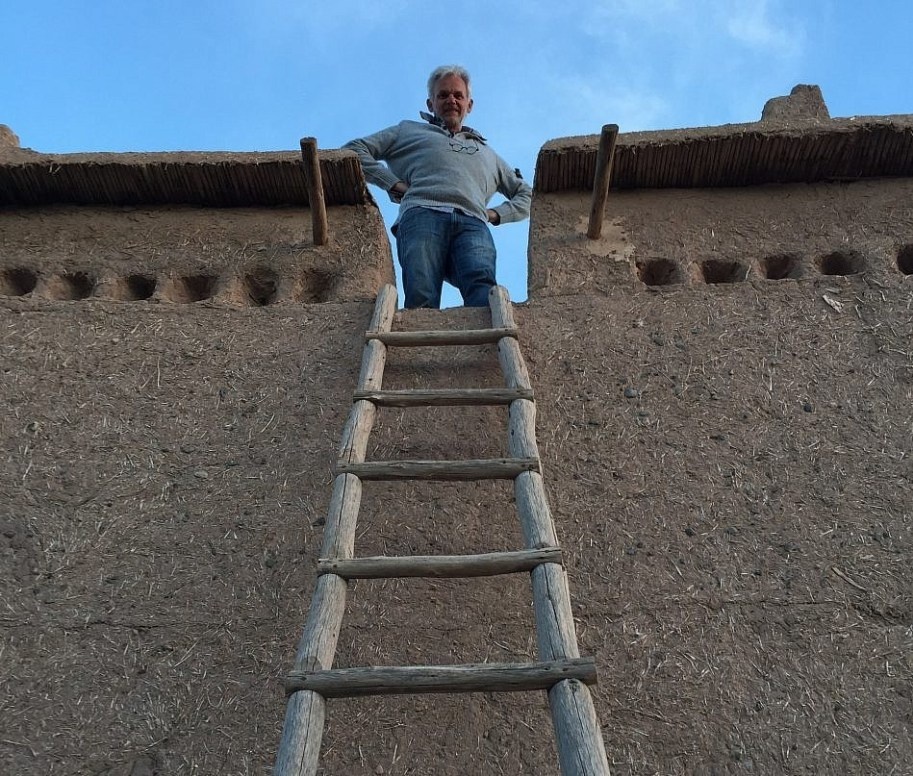 From the tamegrout pottery to the multiple carpets, everything in this interior is typically Moroccan. There are no tables or chairs, instead residents and guests sit on pillows and mattresses on the floor. Every room is tastefully decorated with local findings each using a different color theme.
After a few days of settling into the atmosphere and enjoyment of a slower paced lifestyle, we are fully recharged and ready for a complete 'Couleur Locale make over'. Our team consists of Jantje Jelmaat as the photographer, and as always we could count on Cleo Scheulderman for the amazing styling. And lastly my husband Hendrik and I who for this adventure had both been promoted to moving and relocating service.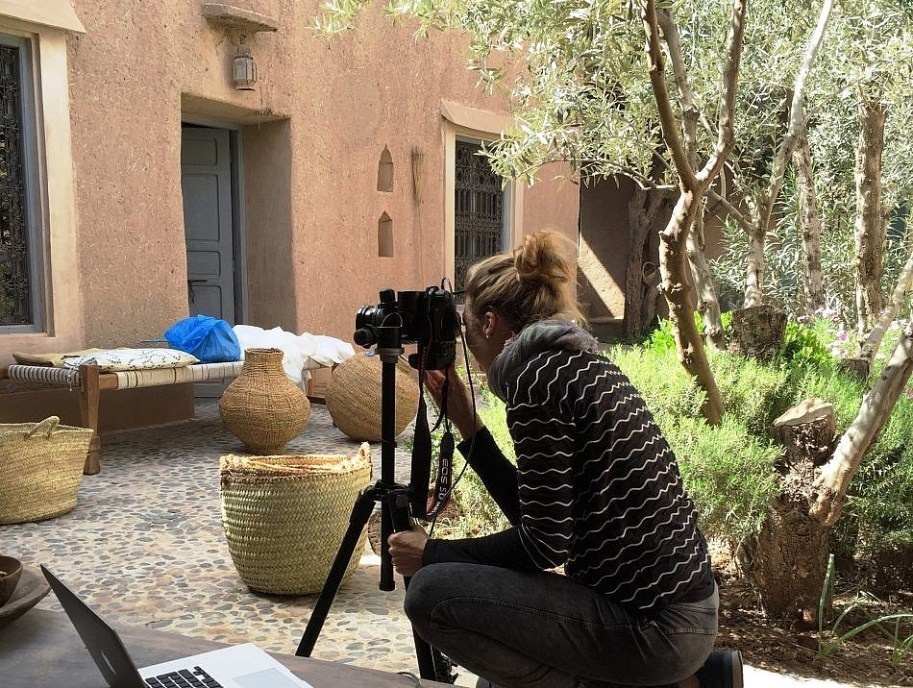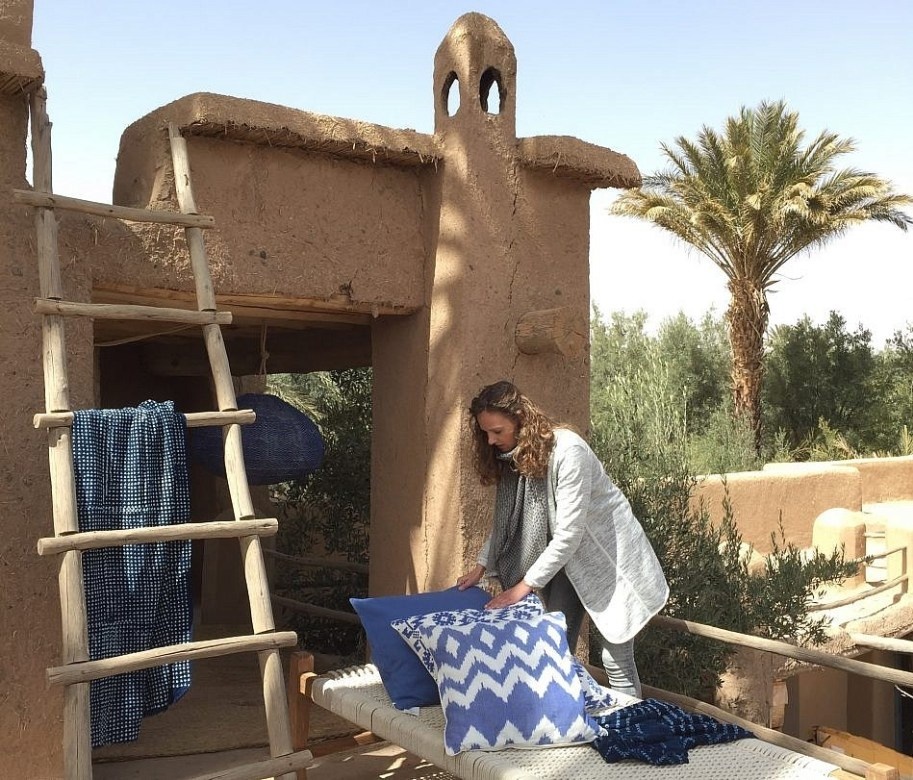 Emptying, filling, emptying once more, dragging stuff from one room to another … three full days of lugging things around, taking pictures, laughing, sighing, moving, eating, sleeping and running before the sun got us… extremely intense days but with a splendid team.
The result was well worth the effort! We created a completely new mix with our items from India, Nepal, Tunisia, Senegal and naturally Morocco (Quran tablets, make-up pots, dromedary baggage carriers) which completely reflected  'the Couleur Locale vibe'.
BEFORE & AFTER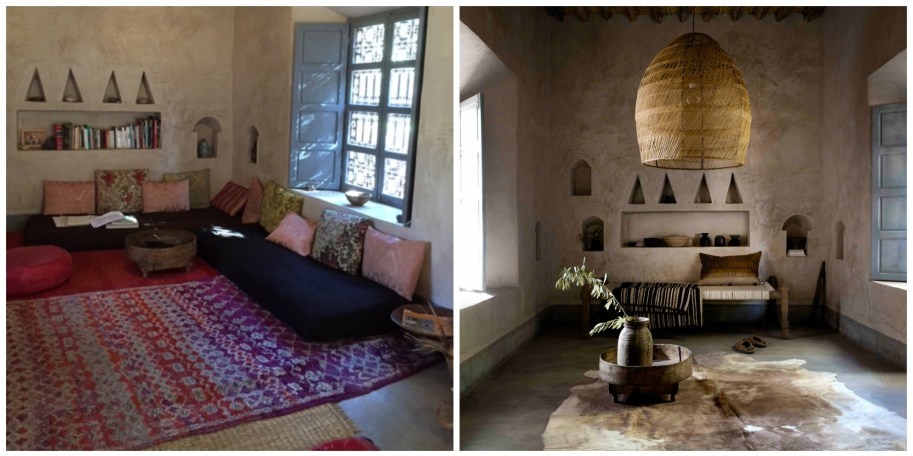 This traditional Moroccan sitting corner was transformed into a contemporary living room. A cowhide from Argentina brings the floor to life. A day bed from Nepal invites you to relax. The monumental Shezad lamp from Tunisia is the real eye-catcher here. Look at many alcoves which bid you infinite possibilities to decorate the room. The tadelakt walls lend themselves perfectly to creating beautiful pictures of the atmosphere. 
A lovely lounge area to cool down from the soaring temperatures of Morocco. With Tine K cushions and the Moroccan bamboo lamp this becomes a blissful spot to relax. Tip: try maintaining a single color to ensure a tranquil feeling.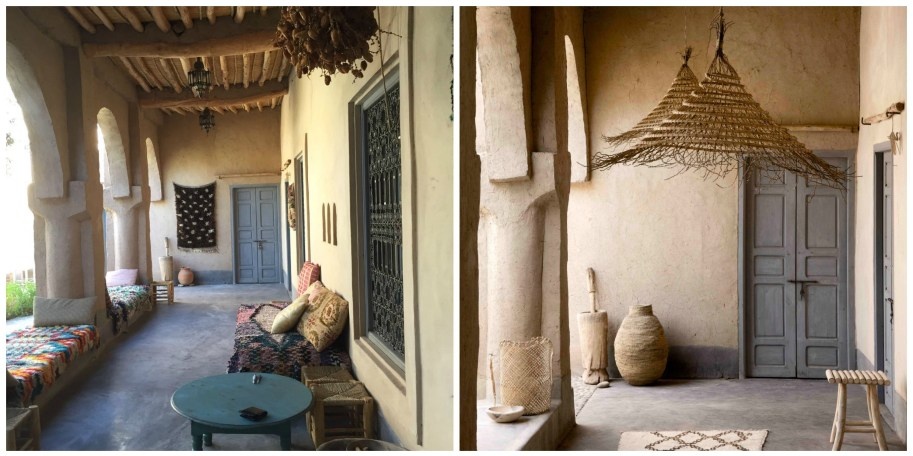 For this covered patio, we replaced the traditional Moroccan hanging lamps with the date-palm suspension of Rock The Kasbah. In the background a buhera gourd from Zimbabwe and an antique Moroccan mortar form a lovely still life.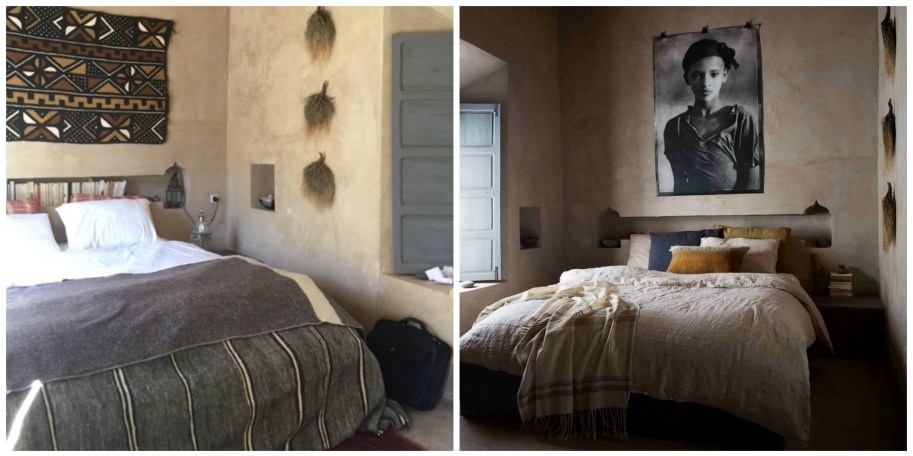 Another strong metamorphosis for this bedroom: the bed we keep calm with linen blankets from Linge Particulier in similar earthy tones that fit the tadelakt walls perfectly. The central attention point of the room goes to the grabbing glance of this Ethiopian girl. Serge Anton makes strong portraits which certainly fit in this house full of African influences.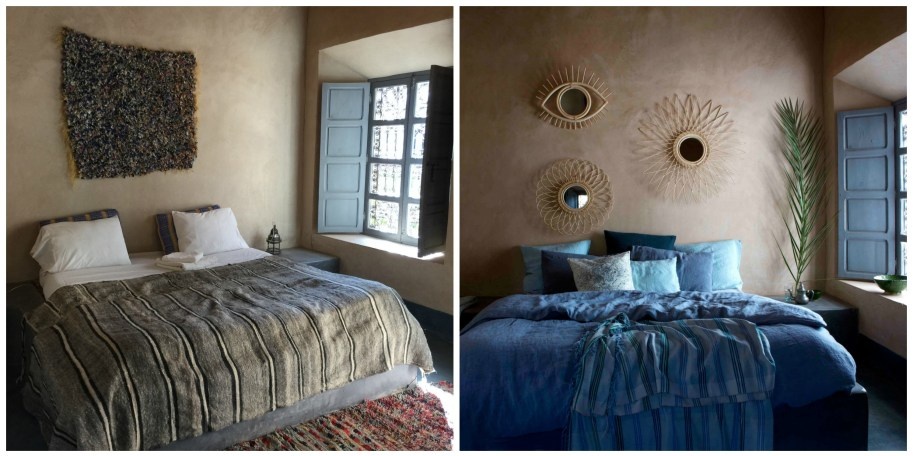 Fans of the color blue are going to love this bedroom. The color scheme of Linge Particulier consists of soft warm colors which match in accordance with each other. Go for different tonal shades for the head pillows so that the overall look doesn't become too boring. Three different mirrors brighten up the walls. A tamegrout bowl on the window sill gives you some of that contrast. Also, Cleo could not resist adding a beautiful palm leaf as a nod to the beautiful garden.
What do you think of this before and after home make over? Did we succeed?
All content & images © Couleur Locale /please do not use without our written permission