Not just a piece of wood, the story of Lahcen.
7th of April. Three days. Only three days ago I, Nies, started working for Couleur Locale when Ruth gets the idea to send me and photographer Griet to Morocco. I barely know what's happening: me, the girl who's always prepared, has to leave the country in three days. Usely when I travel, I make a schedule, look for nice restaurants and write down some highlights I definitely want to visit. This is so different! On Thursday Ruth decides to sent me, on sunday we're on the plane. Not prepared at all. But hey! I get to go to Morocco, where I've never been. So I decide to let it all go with the flow. I'm very happy with the opportunity. By the way, it's probably a good excercise for me! I just let it happen and who knows what I am going to discover!
Ruth & Hendrik traveled to Morocco in March and bought unique items at the most amazing locations. Griet and I follow their footsteps. We visit the men and woman they met during their trip. Together we are eager to get to know more about the story behind the product. Because that's what our products deserve.
This is the story of Lahcen.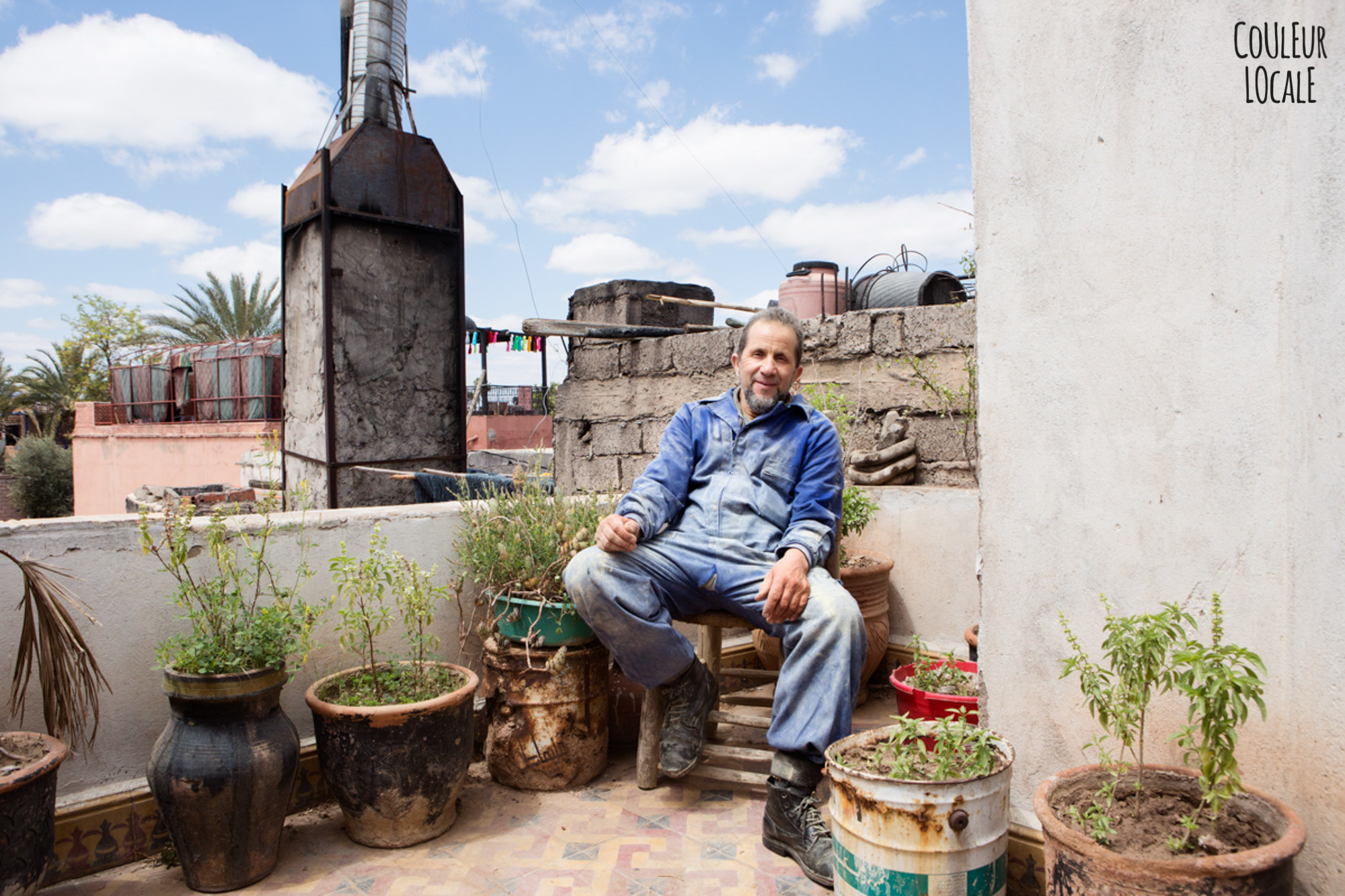 Lahcen, always friendly and with a big smile, owns a beautiful shop in the souks. Ruth & Hendrik were impressed by this man. Immediately after our arrival, we start searching for him. What a labyrinth! We get lost a few times, but after a while… There he is: Lahcen! In the beginning, he doesn't really understand what we are trying to do. Not every tourist is allowed to come here and take pictures. Then we have an idea: we show Lahcen a picture of Ruth & Hendrik to remind him of them. "The couple that almost bought my entire store? Ofcourse, take pictures!" Lahcen is happy to show us around and he even makes us a traditional Moroccan mint tea (with way too much sugar). Griet and I love his hospitality!
Lahcen's shop stimulates all your senses: the smell of wood is everywhere and you just don't know where to look first. Lahcen is a real artist! He shows off his skills with great pleasure and poses for the pictures like a real pro. It's so special to experience this. His shop is already an eyecatcher, but when you know how it's all made, you're totally in love with everything.
Tourists and passers-by only see Lahcen's shop, the ground floor. On the first floor Lahcen has his stock. Large wooden planks, waiting for his golden hands to touch them. Olive wood, lemon wood, almond wood, walnut, … Beautiful, thick pieces of wood. And all made with love!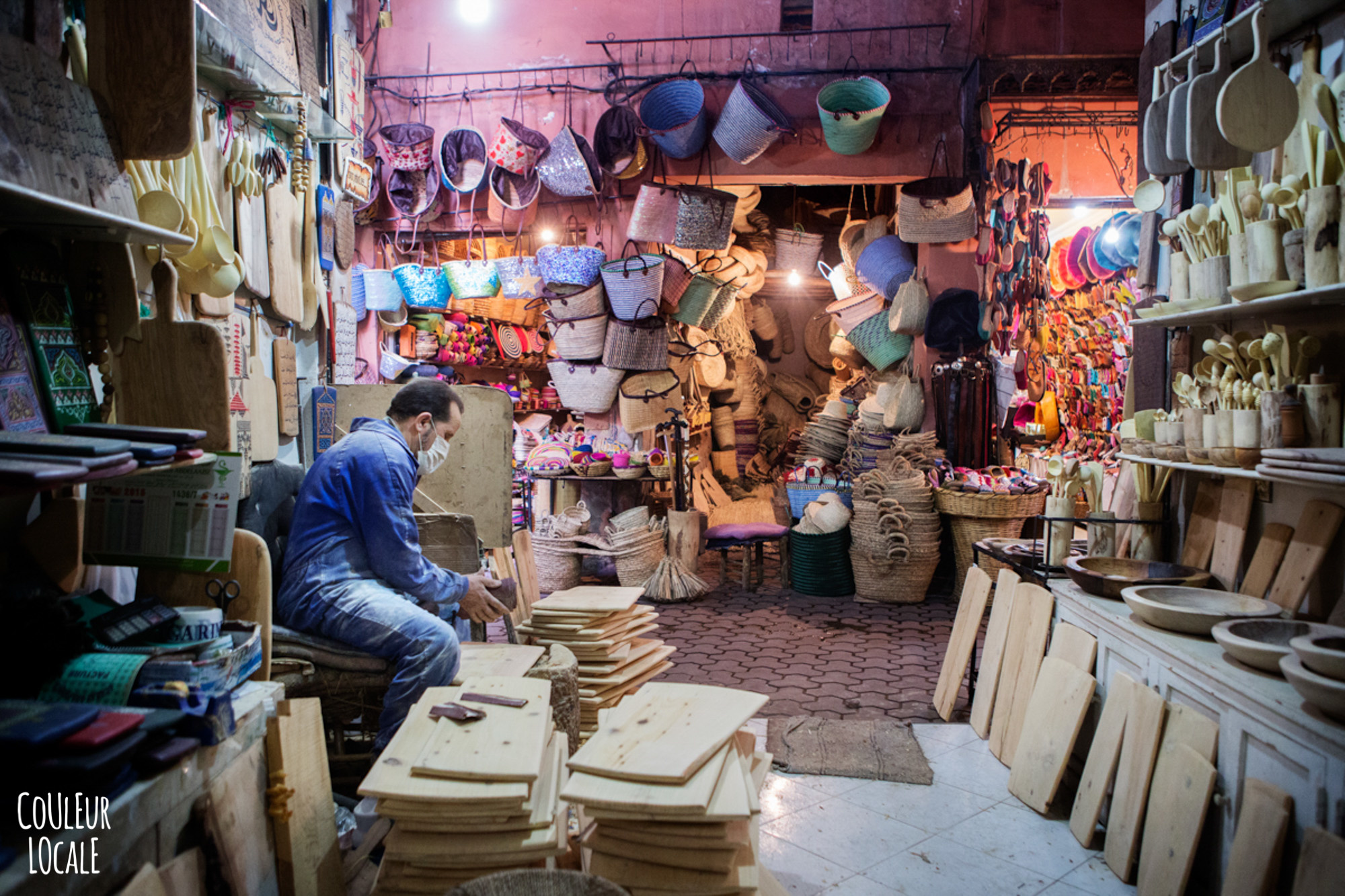 On the roof, he carves his wood. The roughest work is done with a sawing-machine. Everything, including Lahcen (and we too, after our visit) is full of sawdust. When the tough job is done, Lahcen returns back to the store to finish his work.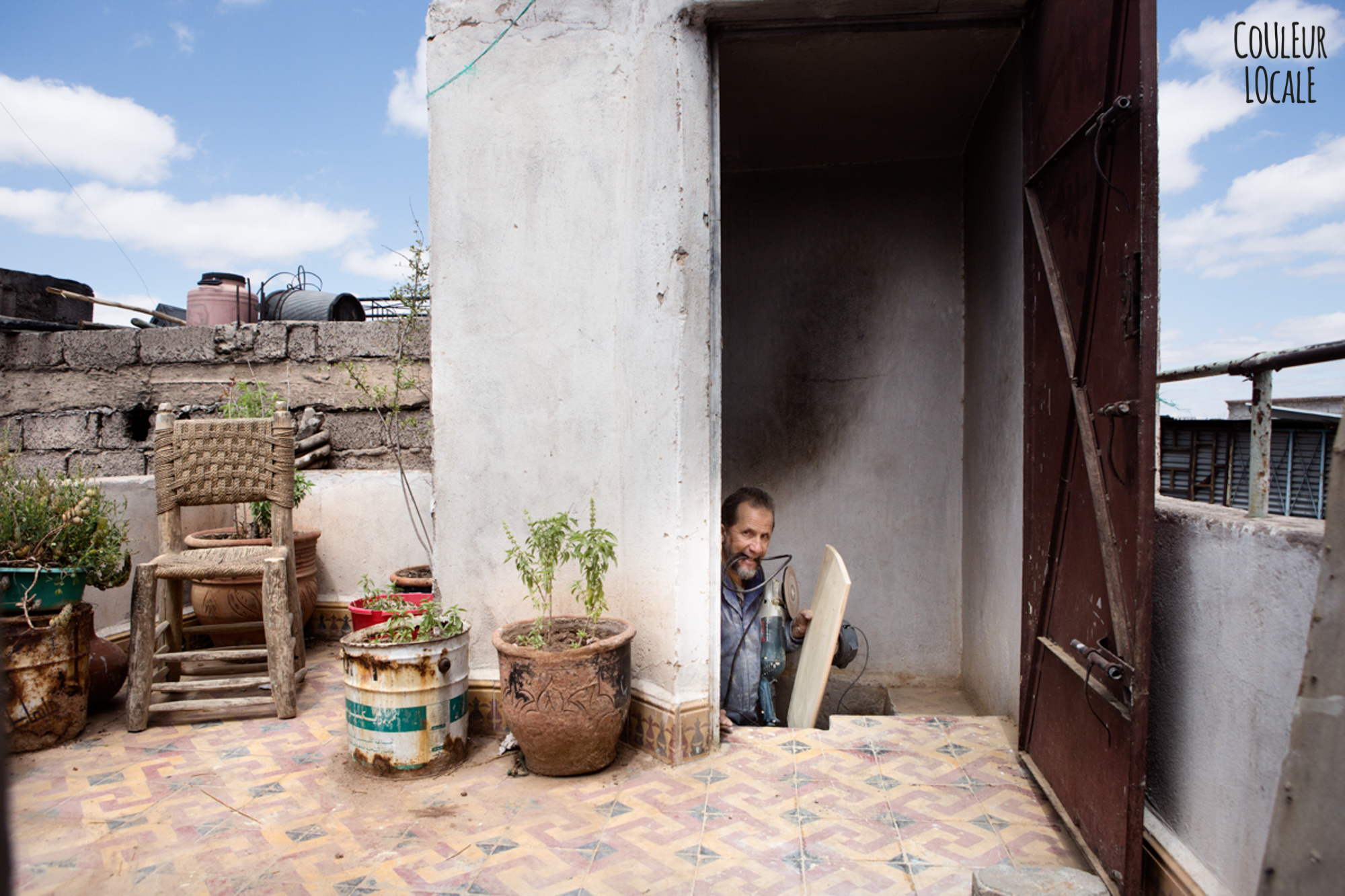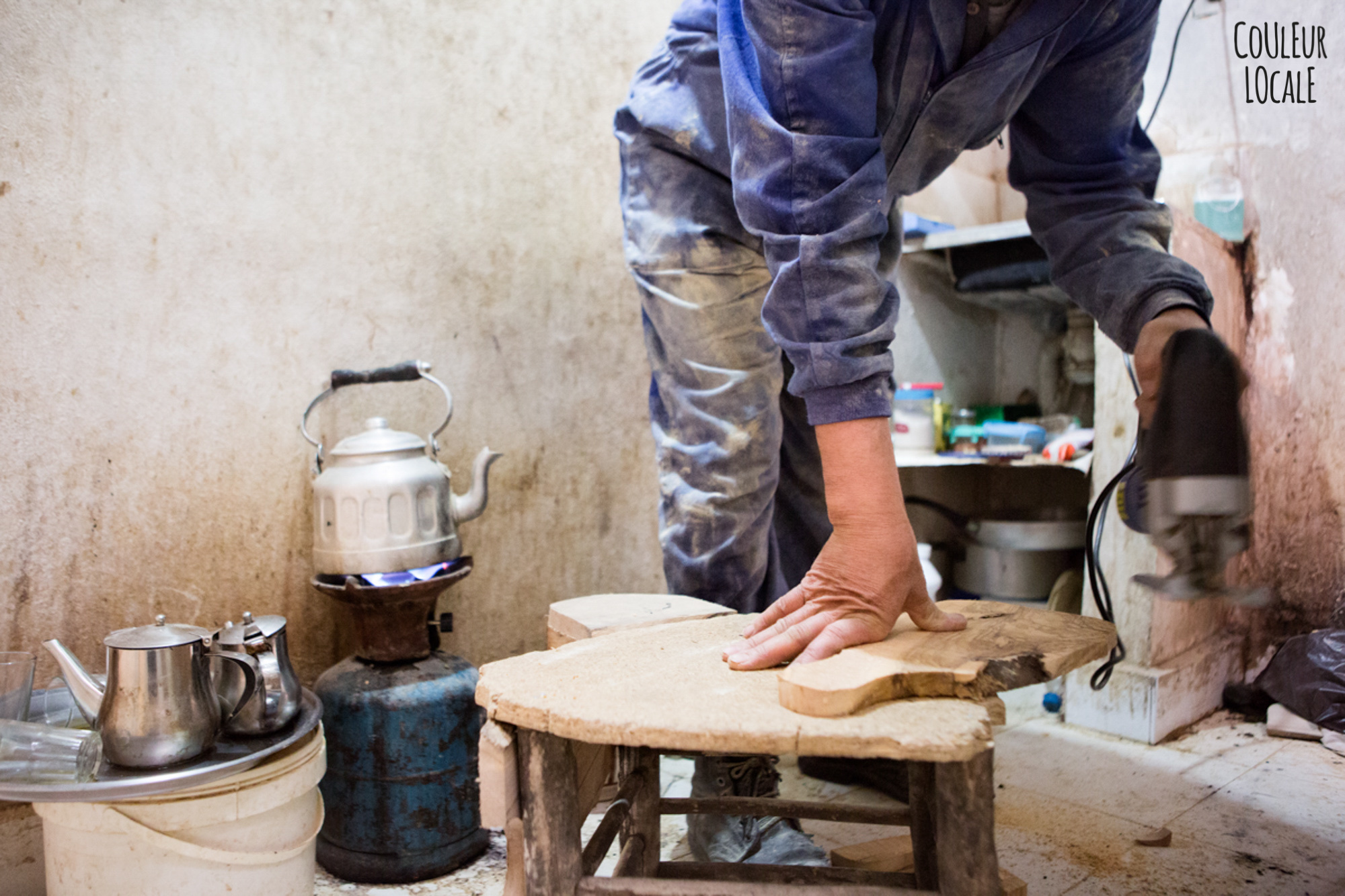 In his store, every one can watch him while he's finishing his products and at the same time he can be in his store. Lahcen is alone so he has to combine everything. Lahcen finishes his wooden items with an iron rasp and sandpaper. And he needs a lot of power too, because the way he fabricates his wood: not for quitters! A lot of patience is needed for this kind of work, but now we see that power is also necessary. Griet and I are amazed to watch Lahcen doing his thing. We would be exhausted after a few minutes!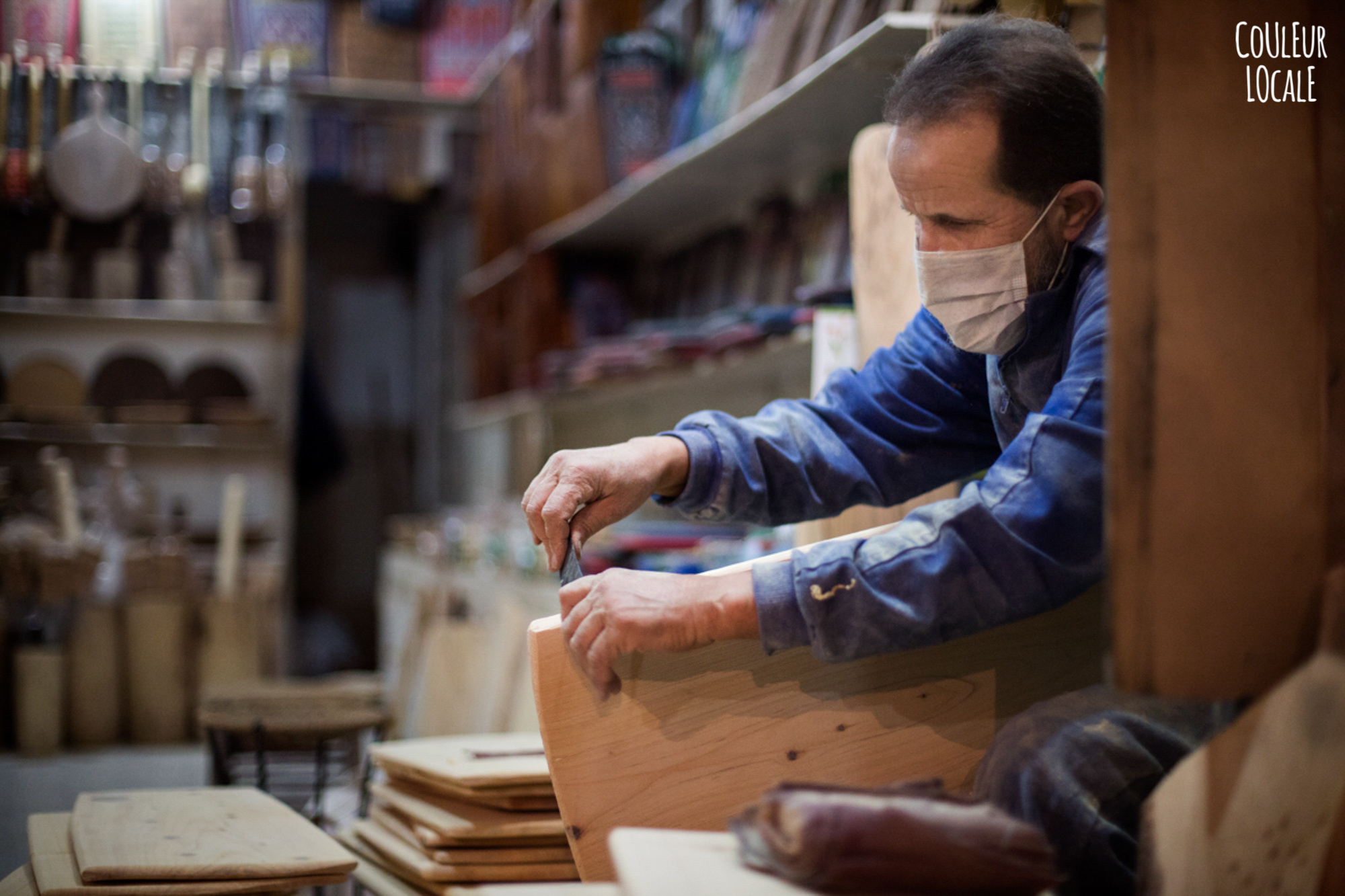 Lahcen makes everything from salad bowls, wooden cutting boards, sauce spoons to mortars and quranic tableaus. That's why in the beginning, we didn't know where to look first. Everything in Lahcen's shop is fun!
It is impossible to visit his shop without buying something. Lahcen has an incredible arsenal of wonderful products. For Couleur Locale we couldn't resist and practically bought all the items in his store. On our webshop it is now possible to buy from Lahcen's store and choose between the olive wood spoons, the walnut chopping board, the walnut mortar or the walnut salad bowl.